Learn how to effectively implement intervention strategies with our MTSS trainings.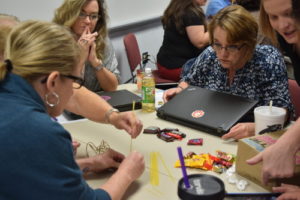 An education process that offers high-quality research based on instruction and intervention based on a student's individual behavioral, social, and academic needs, MTSS provides ways to adjust a student's instruction to elevate their performance and learning success over time. Most MTSS models used in classrooms, schools, and districts today universally screen all students and divide them into multiple tiers of intervention, which include Tier 1, Tier 2, and Tier 3, based on varying student needs.
At i-LEADR, Inc., our MTSS training solutions facilitate and support the implementation of an MTSS program using our comprehensive assessment platform. During trainings, we help educators and administrators alike understand how to make informed decisions at every tier of instruction and establish supports for teachers, so they know how to help each and every student.
Our MTSS training sessions cover multiple aspects of MTSS implementation and delivery, including how to:
Screen students universally; identify Tier 1, Tier 2, and Tier 3 students; and apply intervention strategies across multiple core subjects
Determine decision criteria, so teachers can intervene and help students immediately
Figure out each student's unique learning needs and cater instruction to them
Use evidence-based assessments to monitor student progress on an ongoing basis
Document and encourage the involvement of parents at every stage of intervention
Explore our approach to MTSS training and how it can help you support teachers and encourage greater learning for every student in your school or district. Contact us at i-LEADR, Inc. today for additional information about our trainings and schedule.
Similar Services we Offer: